The Cost of Transitioning: Economic Realities Sometimes Overlooked When Veterans Enter Private Sector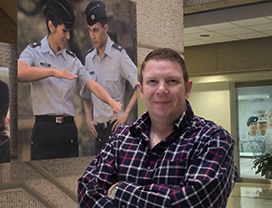 Todd Cavin learned a valuable tax lesson right before he retired after 20 years in the Air Force.
"I didn't know that the housing allowance you get in the military is tax-exempt," says Cavin, a business support advisor in Financial Planning Services. That meant he'd need a higher taxable income just to make the same after-tax salary he made in the military.
Transitioning to civilian life can be tricky in the best of circumstances. But add financial concerns to the equation and things can become exponentially more difficult.
That's the topic of the fourth and final report this year from the Institute for Veterans and Military Families (IVMF), which has published a series of papers, with support from USAA, on ways to make the transition easier.
Making finances a priority
"More than 1 million military members are expected to separate from the service over the next five years," explains Mike Kelly, assistant vice president of Military Advocacy. "USAA is uniquely positioned to help them make that transition, considering so many of our employees have already gone through that process."
Cavin and his wife, Joyce, began their planning efforts three years before he retired as a captain earlier this year.
Some of the steps they took included updating their wills, revising his advanced medical directive and, in case it took him longer than expected to land a new job, bumping up their emergency savings fund from enough to cover six months of bills to more than nine.
Since Cavin was hired directly from the military, he participated in USAA's veteran leadership development program, VetsLeaD. He says it helped him learn how the business operates. The one-year program teaches newly hired veterans how USAA companies and staff agencies operate to serve our members. The program also provides learning activities designed to bridge the business acumen gap and enable the successful transition of these recently separated veterans.
Cavin says he expects his new position at USAA will help him save more toward his retirement. It's something he deferred during his active service to help get his kids through school with as little debt as possible.
"That didn't allow as much room to invest for retirement as we would have liked," Cavin says. "Through the great matching contributions and the Retirement Plus benefit, we should be able to start making up for all the time we had to put off contributing to our retirement."
---
238297 – 1216
USAA is an equal opportunity and affirmative action employer and gives consideration for employment to qualified applicants without regard to race, color, religion, sex, sexual orientation, gender identity or expression, pregnancy, national origin, age, disability, genetic information, veteran status, or any other legally protected characteristic.