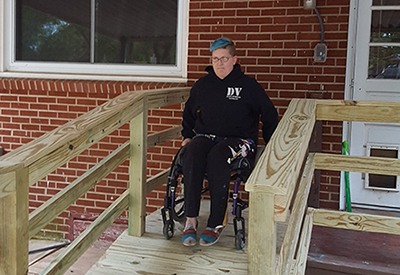 Navy veteran and USAA member Bridget Reynolds could never have guessed that a tree falling in her yard — and knocking out power — would turn into a stroke of good fortune. But it did, thanks to a remarkable act of kindness and the work of USAA and Response Team 1, a member of USAA's contractor network.
In June, a severe storm ripped through Reynolds' hometown outside Nashville, Tennessee, downing trees and power lines. The top of a tree crashed into her yard — blocking her driveway, damaging her house and leaving her without electricity. Because the 26-year-old uses a wheelchair due to a connective tissue disorder, the situation was even more urgent.
"The first thing I thought was, 'Oh man, I'm glad I've got insurance,'" Reynolds says.
Helping a fellow veteran
After calling the power company and police, she contacted USAA. Within hours, a local contracting company was removing the tree and repairing the damage. The crew had been called to the scene by Response Team 1, a USAA Property Direct Repair Program vendor.
While at Reynolds' house, the contracting foreman — a disabled veteran himself — noticed there were no wheelchair ramps, so he mentioned it to Marcus Ladd, the national program director of Response Team 1. They quickly decided that this was an opportunity to help, and a team of volunteers was organized to install a ramp to Reynolds' back door in October.

Before and after Bridget Reynolds got her new wheelchair ramp.
"It wasn't a big thing for us, but it made a big deal in one person's life," Ladd says.
Reynolds now has the mobility to get outside to exercise her service dog, Levi, several times a day.
"I never asked for a ramp, and I cried when they told me they were building it," Reynolds says. "It was so generous and unexpected. It all happened because I called USAA."
---
238812 – 0117
Use of the term "member" or "membership" refers to membership in USAA Membership Services and does not convey any legal or ownership rights in USAA. Restrictions apply and are subject to change.