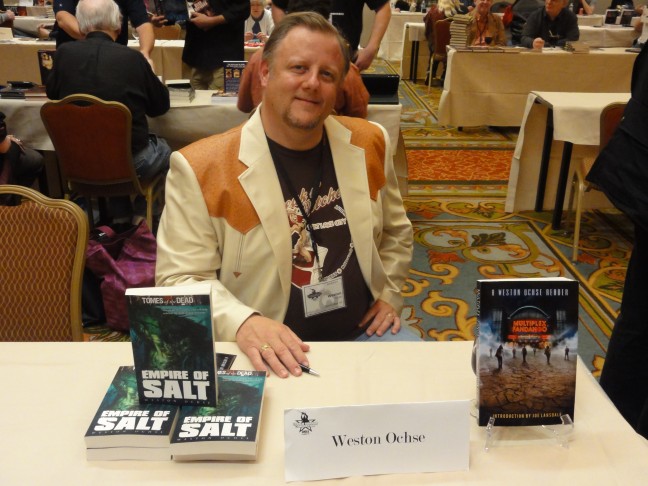 (Courtesy photos)
USAA member Weston Ochse is the author of more than 25 science fiction, military and horror books. His novel "SEAL Team 666," about a military unit that battles supernatural foes, has been optioned for film with Dwayne "The Rock" Johnson as star and executive producer.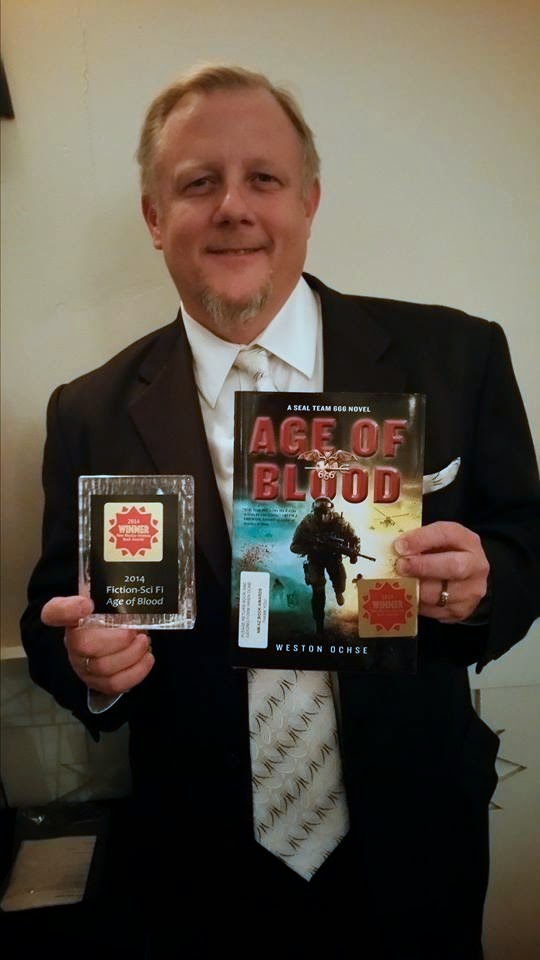 What's the latest on the movie?
"The Rock" is still interested. I understand there's a completed script and it's in a holding pattern until he deals with some other projects. Trust me, this old boy who grew up in a trailer park in South Dakota never dreamed he'd have his work looked at by Hollywood, so for it to get this far is awesome.
What else are you working on right now?
The thing I'm most proud of right now is "Grunt Life," my military sci-fi series out with Solaris, because it specifically deals with post-traumatic stress disorder. All of my main characters in these books have PTSD. The chemical makeup of their brains makes them better able to fight the aliens that are invading the planet. So, on the surface, they're action-oriented sci-fi books, but underneath, they're about PTSD and how people deal with it.
What financial decisions enabled you to build a career as a novelist?
Staying in the Army to get that retirement paycheck was vital. That's an income stream I can count on for the rest of my life, and to have that when I left at age 39 was an important thing. Additionally, one of the best financial decisions I made was to watch my expenditures. It can be tempting when you retire from the military to spend like you did when you were working full time.
Use USAA's Financial Readiness Score to see how financially prepared you are for your next career move, then develop a personalized action plan.

Rallying the Troops: Soldier Gathers Donations, Volunteers to Help Veteran Repair His Flood-Damaged Home
238004 – 1216
Investments/Insurance: Not FDIC Insured • Not Bank Issued, Guaranteed or Underwritten • May Lose Value
This material is for informational purposes and is not investment advice, an indicator of future performance, a solicitation, an offer to buy or sell, or a recommendation for any specific product. A Financial Readiness Score should not be used as the primary basis for making investment or financial decisions. A Financial Readiness Score provides a basic assessment that is based on information and assumptions provided by you regarding your goals, expectations and financial situation, but it does not guarantee financial success or replace more detailed financial planning. The calculations do not infer that USAA assumes any fiduciary duties. Consider your own financial circumstances and goals carefully before investing or purchasing financial products. Before making any decision, consult your own tax, financial or legal advisors regarding your situation. Information provided by you in connection with the Financial Readiness Score tool is voluntary, will not be considered in connection with a request or application for credit or insurance products/services, and may be used by USAA for marketing and other business purposes as set forth in the USAA Privacy Promise.