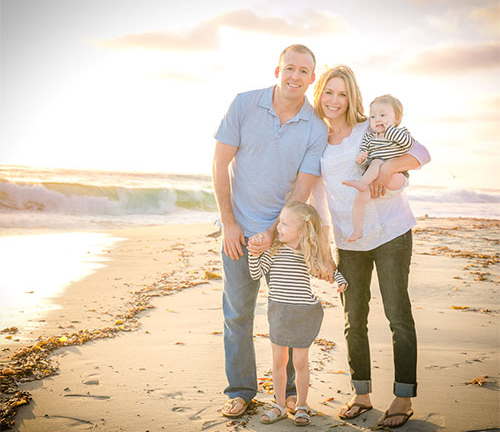 The Westbrook family, USAA members, experienced back-to-back disasters.
It's been more than two years since floodwaters poured into the Florida home of U.S. Navy Lt. Cmdr. James Westbrook, but he still remembers how fast the water rose, sending his family scrambling onto countertops and him wading through chest-deep water to bring neighbors to safety.
What began as a steady rain one day in April 2014 transformed Westbrook's suburban neighborhood in Pensacola, Florida, into a lake.
"All of a sudden the water came up faster, and it was seeping through the walls and the carpet," Westbrook recalls.
His wife, Ashley, called to check on neighbors and found they needed help. One of the three women living next door used a wheelchair because she had cerebral palsy. Westbrook waded through chest-deep water to their home, where he broke through a window to find the young woman in her wheelchair up to her neck in floodwater. He got everyone out, and with one woman on his shoulders, they all waded back to Westbrook's home.
By then, Ashley, their daughters, now 5 and 3 years old, and the dog were on the kitchen counter. The power went out. Eventually, Westbrook was able to flag down a fishing boat passing near his home, which took his wife, daughters and two neighbors to safety. Westbrook and two other neighbors were able to get to higher ground later, alternately wading through floodwaters and using a raft in darkness only broken by lightning.
A new perspective on life
The flood struck two weeks before Westbrook, a pilot, was set to graduate from medical school. Within a week, the family moved to California, where Westbrook serves as chief resident of the family medicine residency at Camp Pendleton.
Westbrook credits Kellie Nedrow, a USAA property claims adjuster, for helping expedite the family's move to California within a week of the flood and even locating a hard-to-find rental car.
"She would say, 'I'll take care of that. Don't worry about that,'" he recalls. "She was so flexible and compassionate."
Almost all of the Westbrooks' belongings were damaged or destroyed in the flood. Westbrook had a renters insurance policy with replacement cost coverage that included flood and fire damage to personal property. None of his neighbors had flood coverage, he says.
"It was a crazy experience to go through with insurance," he says. "I can't imagine going through it without. We'd still be recovering."
USAA renters insurance policies include replacement cost, flood, fire and earthquake coverage at no extra cost, making it a very good deal, says Lisa Gaudi, director of renters product management for USAA.
After arriving at Camp Pendleton, several fires on base forced the Westbrook family to evacuate. They suffered no losses in their second brush with disaster, but Westbrook says the flood and fire incidents gave his family a new perspective on life.
"Even though we lost some valuable things, we all made it out OK," he says. "It could always be worse."
Find out why USAA is the better choice for renters insurance.
---
210562 – 1116
Renters insurance provided by United Services Automobile Association, USAA Casualty Insurance Company, USAA General Indemnity Company, Garrison Property and Casualty Insurance Company, and USAA Ltd. (Europe), San Antonio, TX, and is available only to persons eligible for P&C group membership. Each company has sole financial responsibility for its own products.