Direction From the Diva: Speaker Judy Davis Shares Her Unlikely Path to Coaching Military Spouses
Judy Davis admits she didn't cope well when her husband reenlisted in the Army after 19 years of civilian life. "I did it all wrong," she said, when asked how she went from novice to expert on all things military life-related.
As an active-duty military spouse, coach and entrepreneur, Judy believes sharing life experiences — the good, the bad and the ugly — is the key to helping others make a successful transition into military life and continue to thrive. And through speaking and writing about her own experiences, she's doing just that.
Her website, The Direction Diva, reaches nearly 7,000 people around the world every month, offering advice and resources for juggling military life and small business ownership — and empowering military spouses to live their best lives.
In a recent interview with USAA, Judy shared some of the biggest lessons she's learned as a military spouse. But her insights on managing money and coping with stress can be helpful for just about anyone — military or not.
How did you start your blog?
I never intended to be a blogger! I'm not a writer — I'm actually a math major. Long story short: I was mentoring a group of spouses at Fort Bliss, and when my husband and I got PCS orders, they were like, "You can't leave! We need you!" So I started my blog as a way to support them. Slowly but surely, I gained readership, and then I was asked to write a book, "Right Side Up," about the stress and challenges of military life.
How would you describe your experience as a military spouse?
I've been a military spouse for eight years. My husband and I are a little older than most military couples — we're both in our 50s — but we have a lot of life experience, which has helped us adapt to the military lifestyle. A lot of the same strategies that have always worked for us in our marriage and our finances, I've been able to apply to our military lifestyle, too.
What are the unique issues military spouses face?
Learning to handle the stress and worry that goes along with the military lifestyle. My husband is a combat engineer, so there is some danger in his job. Between deployments, there's a stress level that doesn't exist in the civilian world. Learning how to manage that and not let it overtake your life is something we all deal with as military spouses.
Another big issue is change and dealing with constant uncertainty. Finances were also hard for me in the beginning, because we took such a dramatic pay cut. Learning how to budget and save for retirement was difficult.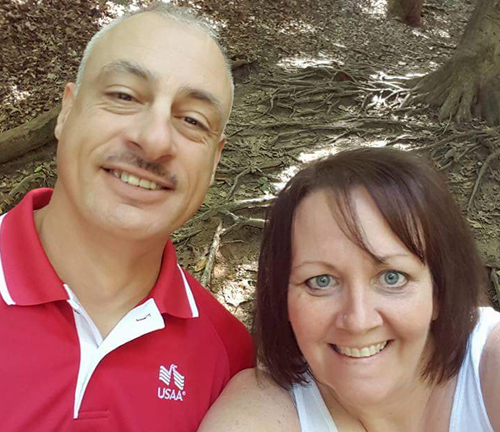 Judy Davis and her husband, Army Sgt.1st Class Geoffrey Davis, on a hike in the Washington, D.C., area on vacation in 2016
How did you deal with all these challenges?
I talked to a USAA Financial Planner and as many seasoned spouses as I could. I asked them what they recommended I do to budget. One of the things they said was to live on the lowest salary you possibly can and pocket the rest. Every single raise my husband gets goes straight into retirement.
And we don't change our lifestyle as pay goes up — we just transition that money into savings and investments. We also drive older cars, we budget for vacation and we don't spend frivolously. Learning what is a need versus a want — having that very clear distinction — helped us get and stay on track.
Do you have plans for Military Spouse Appreciation Day (May 12)?
I'm thrilled to be speaking this year in Aberdeen, Maryland, for the Military Spouse Appreciation Luncheon. We're going to be talking about living right-side-up — that is, embracing the military lifestyle, learning how to manage its unique challenges and learning how to have fun as a military spouse. The event will be a way to recognize and show appreciation for all the spouses on base.
To read more tips from Judy and learn about her work, visit The Direction Diva, and don't miss her episode of The Money Drill podcast to hear more about her journey as a military spouse and business owner.
To see how USAA is honoring military spouses, go to www.usaa.com/milspouse
---
241933 – 0517