By Anne Hurley, USAA member
Many people take their dogs on road trips or vacations — the dogs that can't wait to jump in the car and stick their noses out the window to feel the wild breeze in their faces.
Then there's me. I recently decided to drive 2,300 miles cross-country from Portland, Oregon, to San Antonio, Texas, for a new job — and take my doesn't-love-cars terrier, Carly, and my positively-detests-cars cat, Desmond, on a five-day trip that sorely tested our "man's best friend" bonds.
We survived, but we learned a few things the hard way. Here are some tips to help keep you and your pets happy and healthy on the road:
1. See your vet before you leave. Get a three-month supply of your pets' prescriptions to last until you find a vet in your new city. Remember flea treatments and prescription food, if needed. Don't forget to get copies of their shot records. Pet insurance can provide peace of mind for this visit as well as if anything unexpected happens while you're traveling.
2. Ask your vet about pet tranquilizers, especially if your animal is not a good traveler and will be stressed. If you plan to give your pet a sedative, test its effects before you leave. Although my cat, Desmond, was on a double dose of meds, he was still wide awake and meowed in protest for hundreds of miles.
3. Make sure your pet is restrained in the car. Use a carrier for cats or small dogs or a seat-belt harness for larger dogs so your animal can't roam around the car, which can be distracting and dangerous.
4. Bring familiar things. Pack your pets' favorite food, treats, toys and their regular bowls. If they have favorite blankets or beds, bring those too. I brought my pets' favorite blanket and shawl, and they couldn't wait to snuggle in them at night in the next motel.
5. Be mindful of the weather. Even if you're just stopping for gas and a soft drink, avoid parking the car in direct sunlight. A closed vehicle can get hot quickly.
6. Take breaks. Plan two or three dog potty breaks during an eight- or nine-hour day. Bring a small litter box for your cat to use in the hotel or during pit stops.
7. Plan ahead for pet-friendly accommodations. Planning your stays in pet-friendly spots will reduce your stress enormously. Be prepared to pay. There's usually no free ride for your critters, even at pet-friendly hotels. The rate per animal can be $20 to $40 per night, and size and breed restrictions may apply.
Of course, it's all worth it once you get where you're going.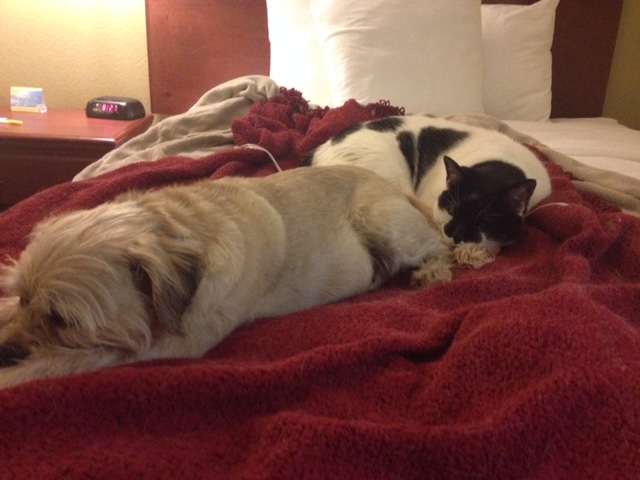 232787 – 0716