AT A YOUNG AGE, Andrell Harris learned there was a gratifying difference between holding down a day job and earning money his way.
Harris, a member since 2001, was 16 when he bought an old gumball machine from a friend's father and launched a vending business that would jump-start a career in investing. By 19, he was investing his vending machine earnings. By 24, he was buying and renting out a beachfront luxury condo in Florida. And by 28, he became one of the youngest sole owners in the Papa John's franchise, opening a location in Natchez, Mississippi.
"My belief in myself always outweighs my doubt," says Harris, 30, explaining his track record of success. He credits his thorough research and his determination to be "self-made" for why he's done so well. And both of those have come with a monster slice of hard work.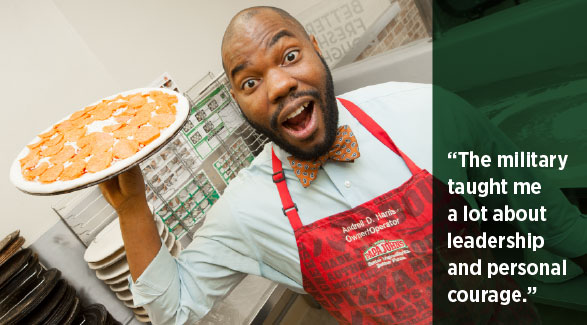 Photo by James Patterson
Harris earned a degree in finance from Jackson State University while serving in a Reserve Officers' Training Corps (ROTC) unit of the U.S. Army. He was president of the university's Student Government Association during his senior year. After he graduated in 2008, he was commissioned as a military intelligence officer in the U.S. Army Reserve.
"Basic training, and the military in general, taught me discipline, and it taught me a lot about leadership," he says. "In my everyday walk now I still hold those principles dear: respect, selfless service, honesty, integrity and personal courage."
Harris then went on to counterintelligence school and became a special agent in the Army before ending his military career in 2015, after 10 years of service. By then his investments had helped him pay off his student loans within four years of finishing college and had set him up for more sizable investments.
In January 2016, he sold the first condo he bought at age 24 and received a six-figure return on his investment.
Harris says he's most proud of his service to his alma mater, where he is a member of the school's development foundation. "I've given five figures back to my university since I graduated," he says. "My philanthropy is something I'm really happy about."
While Harris hunts for his next investment, he spends time encouraging others to start saving and take control of their financial futures.
"The most important thing for people to understand is that they don't have to start big," Harris says. "You just have to start somewhere."
231124 – 0616