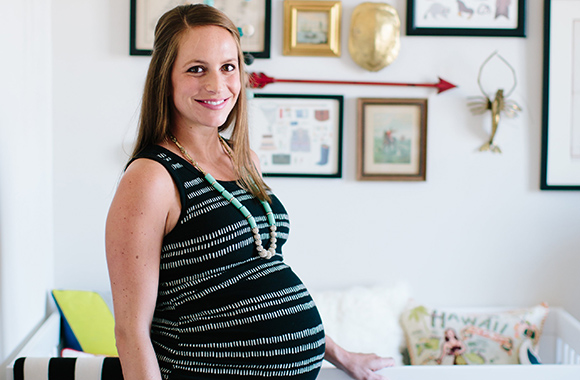 Katie Vail is a West Point graduate, former Army captain and a Gold Star wife. During her service, Vail started a blog as a creative outlet. Now remarried, Vail welcomed her first child on Nov. 2 and continues to write about home décor and DIY projects. Photos by Sarah Bradshaw
HAVING A BABY is a life-changing event, but decorating a nursery shouldn't hurt your finances. Here are a few wallet-friendly design tips I picked up while preparing for the arrival of my son.
Choose a flexible theme. The current trend is to create "un-themed" or even gender-neutral nurseries, which allows the room to grow with your child. By choosing décor that isn't overly juvenile, you won't have to start from scratch as he or she grows.
Ask family for heirlooms. Use a rocking chair that your mother rocked you in or a bookshelf that your grandfather built to create a more meaningful space.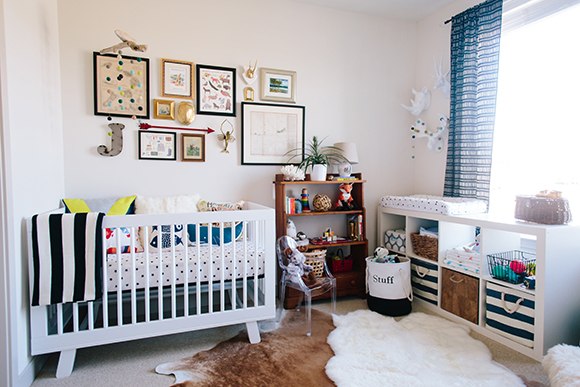 The nursery, particularly the gallery wall above the crib, reflects Vail's travels. "I've lived all over the place the past 10 years — Georgia, New York, Hawaii, Afghanistan, Washington, D.C. — so I know the importance of getting settled and making a place cozy, no matter where you are or how long you'll be there," Vail says.
"Shop" your home. Repurpose artwork, knickknacks and furniture from other rooms. Your baby doesn't need a dresser that matches his crib. A low dresser you already own can double as a changing table.
Scour secondhand stores. Not only can you find affordable and high-quality items, but it gives the space an eclectic look. If you purchase an item like a crib, be sure it has not been recalled and sanitize it well.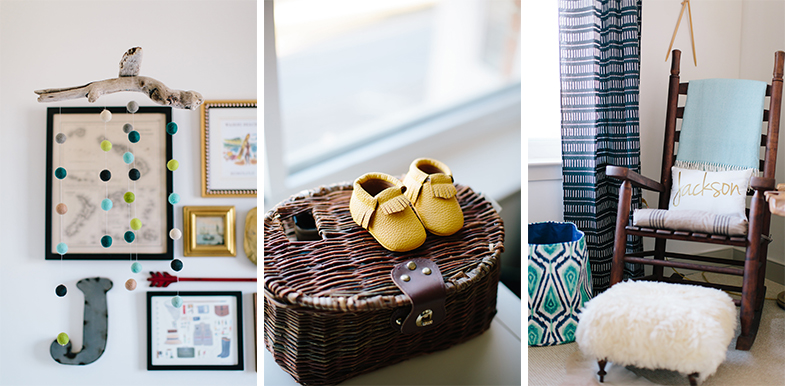 The details — like a custom pillow from Etsy®, a thrifted fly-fishing basket or the driftwood and felt ball mobile Vail crafted — complete the space without breaking the bank. 
Embrace the DIY trend. Browse Pinterest® for do-it-yourself project ideas. Or check out Etsy® — a great way to support the small-business community, while also creating a unique nursery.
Be smart about storage. Storage bins and baskets are a great way to hide the clutter, but they add up. Make sure to assess your organizational needs before buying, and consider other household items, such as a wall-mounted spice rack for a bookshelf or thrifted glass vases for knickknacks.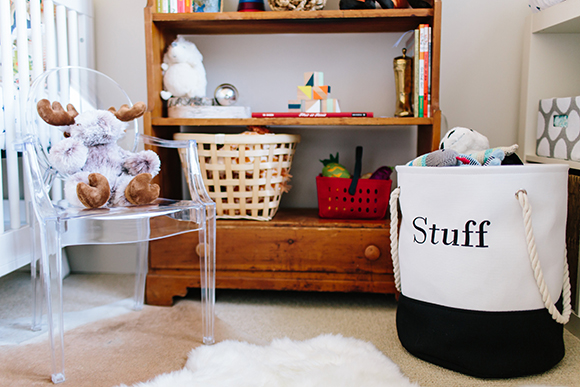 In Vail's nursery, a modern "ghost" chair mixes with an antique bookshelf. "Be deliberate when you mix old and new elements. This ensures that you'll have an eclectic, yet cohesive look," Vail says.  
Use your network. Ask other parents, whether it's on social media or over coffee, about their sources for affordable nursery items. They may even have some hand-me-downs they're willing to part with.
Think of creative design solutions. Hate the carpet, but replacing it isn't an option? Find a fun, patterned rug. Can't paint the walls because you're renting or in base housing? Build a gallery wall. Or maybe you have to share a room with your baby? Create a special corner just for the little one — hang curtains to create a canopy or add a fun mobile.
In the end, everyone deserves their own little space in the world.
Katie Vail, a USAA member since 2003, is the writer behind Life With a Dash of Whimsy, a budget-savvy home décor and lifestyle blog. 
Becoming a parent? These USAA tools can help.
---
225185 – 1115